GIS & LBS
THTC's GIS & LBS applications are accurate and complex. We use state-of-the-art location technologies to deliver high performing mapping and information services to our diverse clients. Additionally, we prioritize security in all our GIS & LBS solutions by making sure that data privacy will be encrypted.
Geographic Information Systems (GIS)
THTC's Geographic Information Systems (GIS) solutions play an increasingly important role in industries like logistics, real estate, transportation, advertising, planning and engineering. Our GIS applications aid in providing location intelligence, giving deeper insights into data that is vital in analyzing and decision-making processes in any business organization.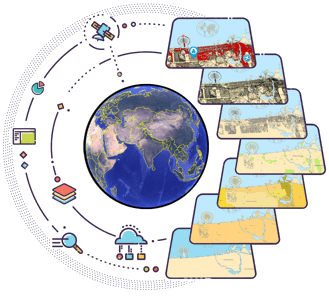 Location-Based Services (LBS)
THTC's location-based services (LBS) solutions offer a wide range of functionalities that can benefit consumers and enterprise users while incorporating all aspects of the LBS value chain.
Our solutions support real-time geographic data from any device to provide enhanced security and information to improve services.